Chevron Tiles Tutorial
Regular price
$30.00
$0.00
Unit price
per
THIS PURCHASE INCLUDES:
Video tutorial, 4min 20sec (unlimited access)
Print tutorial, 6 pages (downloadable PDF)
These tutorials offer step-by-step instructions on how to recreate the chevron fondant tiles that is Crummb's signature design. They include how to prepare fondant for rolling, how to use the rolling pins, how to cut into tiles, how to sequence the tiles (this is the secret sauce!), and how to attach them on to cake. Instructions on sugarflowers are not included.
To access the tutorials, just click on a button that will appear after payment. A permanent link will also be emailed to you.
I hope these tutorials help you create many beautiful cakes! Feel free to email me if you have any questions or encounter any problems ~ Paulin
---
Share this Product
---
Customer Reviews
Sally J.

United States
I recommend this product
02/23/2021
Well designed product for Modern Art deco cake designs
I purchased this tutorial with the Chevron rolling pin bundle. I have always coveted how Paulin made such sleek cakes with such clean lines in execution. The fact that she created these great quality solid rolling pins to teach this technique and make it so easy and simple to learn, is brilliant to me! The rolling pins are made of solid material with some good weight to them which makes them easy to use when rolling and the tutorial with the PDF file is great to use for when you actually are making physically making the cake and just want it printed out as a reference. Paulins videos is very clear and shows you how she makes the Chevron tile on a 5", 7" and 9" cake by 5" high. So if you need the Chevron tiles to measure other round cake sizes you will have to do the math yourself on the circumference to adjust. But there is something about how chic and sleek this design is that you can't help but fall in love with it! I cannot thank Paulin enough for sharing her signature look and products it with the world! :)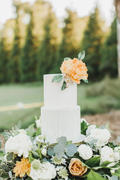 Olivia C.

Switzerland
I recommend this product
12/08/2020
Top Quality. Endless Ideas.
I purchased the bundle set with the tutorial. Worth every cent. These rollers are an absolute cake design tool essential. I have used them so far in three different wedding cake designs, all in various expressions. And I have so many more ideas bubbling in my head! They arrived relatively quickly considering the current conditions with shipping. Immediately I could tell they are of top quality. The tutorial is also great. Quick and to the point...As a busy business owner and mom of three, I do not have the time to watch lengthy tutorials with too much talking. So I was so happy that the video was to the point and excellent film quality.. The accompanying PDF file gave perfect visuals and further explanations. I had no questions after. These rollers have a special place in my studio! Thank you Pauline for creating such a versatile and quality tool. 10/10 -Olivia A Cake Story